D-23 has only 2 ingredients but produces clean negatives with fine grain, excellent tonal separation and good film speed. D-23 is a very simple general purpose fine-grain formula.
D-23 is so easy to make, you can mix it fresh from powder every time! Use it once and discard it.
Try D-23 diluted 1:1. It's even cheaper that way and longer developing times give us better control when performing Development By Inspection - or when handling many sheets at once.
Note to Readers: As of 2020, I no longer shoot or develop film but I hope you find this article helpful.
Not Divided D-23
D-23 is a general purpose one-bath developer. It is not the same as Divided D-23, a 2-bath formula. Divided D-23 is also known as DD-23. Divided D-23 is a "compensating" formula used to handle scenes of high contrast.
Are you looking for Divided D-23 ? See this article.
Not Magic. Not Perfect. Not New. Very Simple.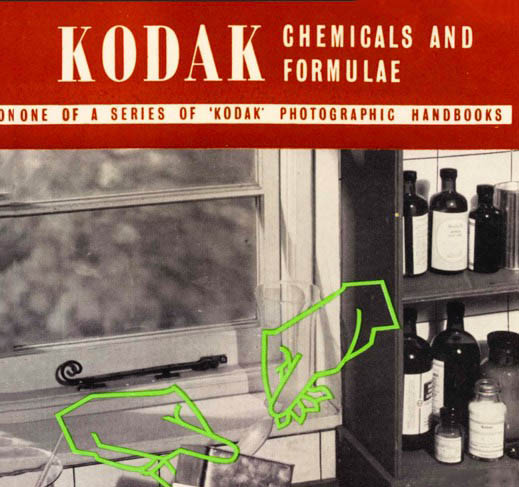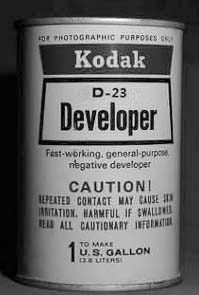 D-23 is not magic. It is not perfect. Other developers may offer small improvements in grain or acutance or film speed - but there are few developers that are as simple and easy to prepare. With large format film what matters most is tonality and ease of control.
D-23 hasn't been offered as a commercial product for decades - but keep in mind that manufacturers sell formulas that are profitable. They often modify formulas to give them longer shelf-life in the store, or make them cheaper and easier to manufacture on an industrial scale.
In the limited BTZS testing I performed, the effective film speed and contrast curves obtained with D-23 diluted 1:1 were virtually identical to those of other popular developers like D-76 1:1 and Pyrocat HD 1:1:100.
If we make huge prints, shoot very contrasty subjects, print with UV light or want exaggerated acutance, we may require special-purpose treatment. Otherwise, we are free to consider general-purpose formulas and secondary factors like simplicity, cost and toxicity. In that case, D-23 is an attractive option.
You might find it interesting to read this thread on Photrio which discusses the remarkable similarity of D-23 to the classic fine-grain developers Kodak Microdol-X and Ilford Perceptol. Apparently a dash of salt is the only difference. Of course in Chemistry, a dash of this or that can make a big difference: does a dash of salt provide better storage life ? sharpness ? acutance ? tonality ? Or does it merely change the formula for the purpose of intellectual property ?
You can read more about this formula in the 1949 book Kodak Chemicals And Formulae. See page 12.